Introducing…
Today, our Expressionista is Lisa Fitzpatrick, whose business is helping women find the light inside. She is heart-focused and soul savvy. And one of my fave things of all, an author of the gorgeous book Healing The Heart Of Your Business, which helps you put your soul  and self-care at the centre of your business, for the highest good of everyone around you.
Meet Lisa…
1. What does self-expression mean to you and why is it important?
Self expression to me means writing to my heart's content. Although this is a cliché, it's a very appropriate one considering that the heart is the centre of courage. Creative self expression takes a lot of courage. It can be truly frightening to find your authentic voice and express it truthfully in whatever medium you are drawn to – whether it is through painting, writing, teaching, dance or healing. I coach women to do this because I think too many women are slowly dying with their music inside them.
It is when we are fully expressed that we revitalise our energy centres, reach for our full potential and step into being all that we are here to be. I believe that healthy self-expression leads to holistic wellness and a healthy soul. There is nothing more painful than a talent that has gone unexpressed, or a desire to express that has been subverted or repressed. Women in particular are awakening to their truth after being repressed for so many centuries through their economic circumstances and domestic servitude. The fact that we are now able to creatively self-express through the amazing technologies we have available, whilst still working from home and raising children, is particularly exciting to me.
2. When do you feel most expressive?
I feel most expressive when I'm writing creative non-fiction, or standing on a stage delivering a talk. Finding the sweet spot between being expressive, and giving generously to uplift, heal, ignite, inspire, rally and support others to move forward in their life and business is one of my biggest passions. It took me a lot of years of writing before I found my true voice, now I am more prolific in one year than I ever was in a previous decade of writing.
3. How do you nurture your creativity?
Nurturing creativity means writing even when I don't feel like it. I believe that creativity is a little like a muscle. It needs discipline and exercise to be supple, flexible and strong. I also love to nurture my creativity through movement. Creative movement sequences on the yoga mat are particularly great at triggering creative insights. Walks in nature are another way I like to nurture my creativity.
4. What one piece of advice would you give someone who is stuck with their writing?
Arrange to sit down and write at the same time each day if you can. Even though you may not be feeling connected to the words on the day, the psyche knows that the space has been created for the words to come. Take a break and go for a walk during your writing time if you have to. The angels talk when you walk!
5. If you could try a new form of creative expression, what would you do?
I would paint amazing canvases with bright, bold, oil paints. The idea of playing with colour feels so nourishing and happiness-provoking to me. I have always marvelled at the way artists spend their time. I also think that the only way we really grow is to stretch ourselves outside our usual comfort zones, so trying new creative things is important for us in order to reach our full potential.
6.  Where can we see what you create?
You can catch me on the website: www.LisaFitzpatrick.com.au, book site: Healing The Heart Of Your Business, Facebook Page, Instagram, Periscope or Twitter.
More About Lisa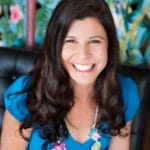 Lisa is a best selling author who revels in supporting women to find their unique life purpose and heal their businesses so that they can enjoy holistic and life-sustaining success. She is the founder of Sacred Women's Business, which serves conscious women to tap into their feminine wisdom and become the leading lady of their lives and businesses. Sacred Women's Business was a finalist in two categories of the 2015 Ausmumpreneur Awards for Service Business and Emerging Business and won a third place in the Service Business category.
Sacred Women's Business makes a stand for more awakened women to take an empowered place in the areas of business, politics and finance so that the world can benefit from a greater balance and equality. Lisa is a certified coach, writer, yoga teacher, workshop facilitator, speaker, registered Physiotherapist and mother. She lives in a subtropical paradise near Byron Bay with her two sons. For more about Lisa, head to http://lisafitzpatrick.com.au/about/