Your 6-step journey to more exciting writing
You're ready to rediscover your love for writing.
To awaken that deep-set desire to express yourself in words.
To finally get the fun and freedom back in your web writing.
Your time is now. Jump aboard, chica! We're heading off on a writing adventure like no other.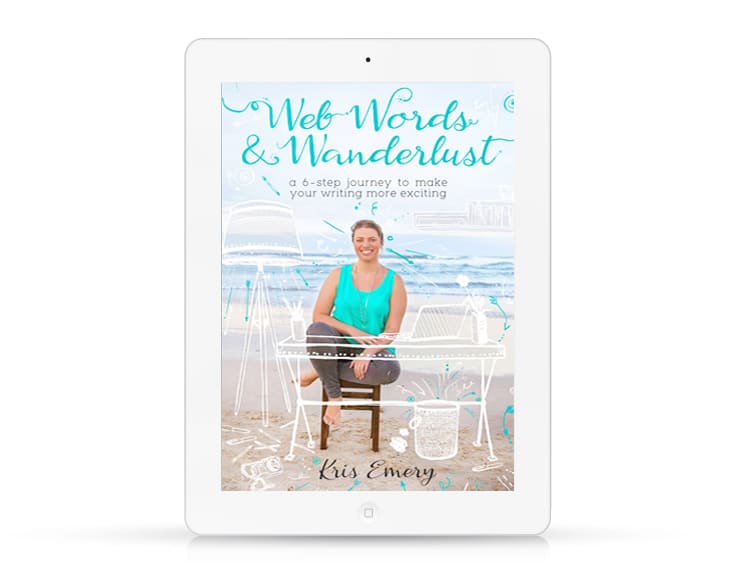 Infused with my own personal travel tales, Web Words & Wanderlust is a super-practical and highly engaging resource for lovers of self-expression.
Featuring an array of journaling, technique and writing practices, as well as almost 4 hours of recorded video classes, this is a writing experience designed to get you out of your head and into the world, transporting you to a place where writing becomes fun again.
No more staring at a blinking cursor waiting desperately for inspiration to dawn.
No more wondering what the heck you're going to blog about this week.
No more half-finished Word docs littering your desktop unpublished.
No more abandoned scribblings in Evernote, Scrivener, Trello and wherever else you've forgotten your login for.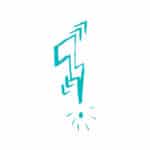 Remember when writing used to make you feel energised?
You got squeeeee-I've-had-an-amaaaazing-idea! excited about starting a new blog post. Because some stuff just needs to be said.
You couldn't wait to make time to sit down and write.
Even when you were crazy-busy with work, meeting friends for drinks, and general life admin, you always made time to write.
Because the feeling you got from writing gave you good-tingles.
Ideas popped into your head constantly.
Your inner explorer was curious about everything, all the time. Travel, food, places, people, life… you just wanted to dig into it all.
Everything you noticed, everything you had an opinion on, everything you felt strongly about, you were excited to write about it.
You wouldn't call yourself a writer exactly. At least not back then.
But man, were you a mixture of stomach-plummeting nervousness and high-energy dance-party-in-your-living-room excited when you first hit publish on a blog post.
OMGeeeee! People are reading my stuff!
Even when it was only you and your mum on your list, newsletter days were exciting times. Remember how you felt when you got your first comment from someone you didn't know?
And don't get me started on launching your website! How special did that feel?
You felt empowered to be the girl with something to say, who dared to be different, who was brave enough to take action and make something of herself.
She was feisty.
She had a voice, a message and a vibrancy like no other.
She spoke up and quit her job because she needed more freedom.
She built a business she loves.
It was a while ago now, but you remember exactly what it was like to be that girl.
I lost her for a while, just like you might have.
Where'd she go?
When did it all change?
How did writing for your business become an obligation, instead of an outlet?
Why is it suddenly a big fat fucking chore to write anything these days?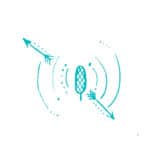 What happened to the girl with all the ideas?
All The Ideas!
And who is this serious woman who showed up in her place, pushing to get her newsletter out,  forcing herself to blog, and boring the pants off herself when she writes?
You know what, chica? I get it.
That girl was me too.
But, I'm happy to say, she's back and writing again. (And a sales page, no less. I must have my mojo back!)
So how did I get her back? And how can I help you get excited about writing again?
I'm glad you asked….
By rediscovering this love of language and travel. By embarking on a 6-step journey to more exciting writing. By exploring web words and rekindling the wanderlust.
Why I wrote Web Words and Wanderlust…
I run a booked-up, location-independent editing business from my laptop so infusing a lust for living with a love of language is pretty much my every day – and the inspiration for this book.
I know I'm not the only chick out there with ambitions to make waves in the world by expressing her message. The trouble for wanderlusters like us is we need to keep it fresh. The moment writing for our business feels like a chore, we're over it.
That's why we need writing to be a never-tired, ever-exciting pursuit. It needs to satisfy our explorer side. It can't get old. It can't reach the point of 'just for the sake of it' or 'because someone told me to'.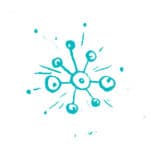 When the lust for location and a wonderment for words combine…
The idea for Web Words & Wanderlust came about while I was in the South Pacific islands, writing and editing on the road. As great as that sounds, we can't wait for times like this for inspiration to strike. I'm all for writing retreats but it's not always possible to take a week off in an exotic location when we fancy writing our next workbook, right?
Garnering creativity cannot depend on being somewhere special.
Web Words & Wanderlust is about accessing the voyager inside of you, the traveller that looks at the world through inquisitive eyes, and using your innate curiosity to create wherever you are.
In this writing experience, I'll take you through the very same 6 steps that I used to get back to more exciting writing. You'll discover and dig into your own personal flavour of writing, why it's unique, and how to harness your free spirit to become a better writer.
Damn, it feels good to be back!
I'm writing again and I feel unstoppable. And I know you will too.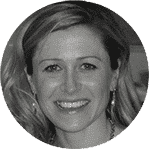 "I'm writing a book! That's been a secret desire for a long time but one I never thought I would be able to achieve. Web Words & Wanderlust has given me the confidence to write more and identify very clearly what I want my voice to sound like, which has definitely been hit & miss in the past."
Claire Enston writes about planning stress-free weddings at www.claireenston.com
Web Words & Wanderlust is a writing experience with a difference.
This is truly a writing experience like no other. Designed with passionate writers in mind, Web Words & Wanderlust is full to the brim with advice and inspiration, useful tools, practical exercises, and tons of ways to keep the ideas flowing and your motivation sky high.
The experience is split into six easy-to-follow steps like this:
Step 1 : Insight – why you write
Step 2: Voice – what you want to say
Step 3: Audience – who you write for
Step 4: Language – how you express yourself
Step 5: Angle – which perspective you take
Step 6: Ritual – what practices you use
This experience will help you get back to that place where writing feels like freedom, feels like power and feels like excitement.
Want in?
It's all yours for just £97!

(Looking for just the book? That's here.)
It'll also give you:
An unstoppable flow of ideas.
A greater awareness of what you want to write about.
An insight into your true conversational style and how to make it your writing style.
Tips to make your writing more powerful and resonant.
Ideas to help you explain your business personality through your writing.
Nobody else can tell your stories. Nobody else can write what you have to write. Nobody else can express what you've seen in the way that you've perceived it.
And that, chica, is exactly why you need to keep writing.
Take a sneak peek inside…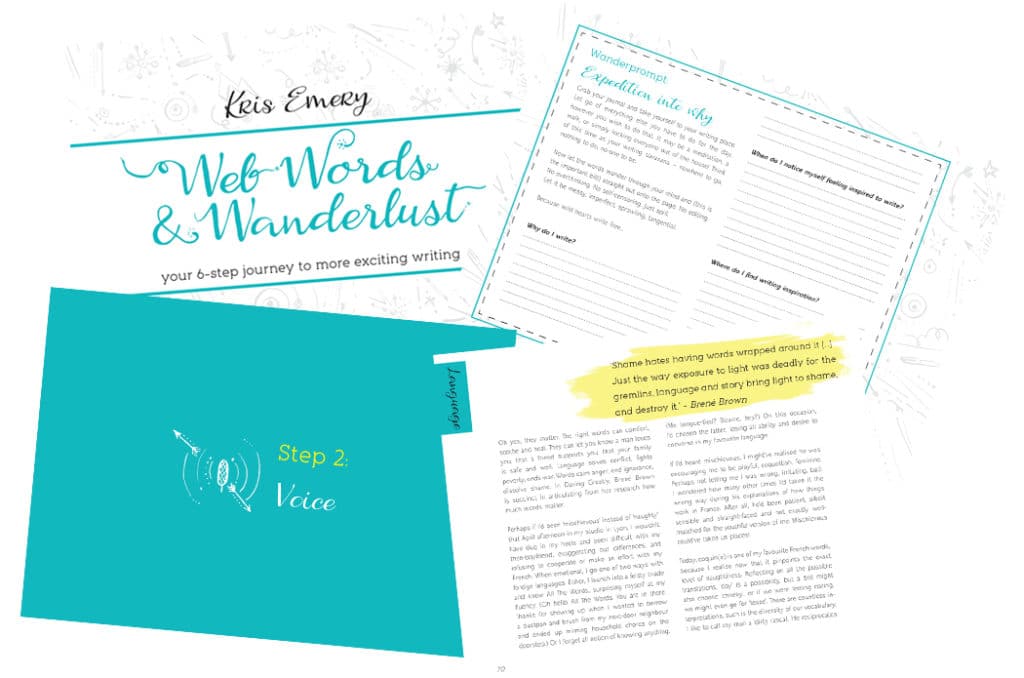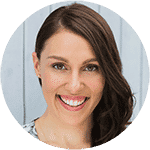 "Since working with Kris, I've never been so inspired to write. I feel like I'm more connected to my message. My writing has become more focused, powerful and fun. People are really resonating with my blog posts and knowing that my words have made someone's day is priceless."
Natasha Sciotto writes on living well from the inside out at www.healthyyouhappyme.com
Here's what's included in the Web Words & Wanderlust Writing Experience:
A gorgeously designed digital copy of the Web Words & Wanderlust Guide.
Learn the six essential steps to more exciting writing. For you. And for your readers.
Understand why you write and where you get your best ideas.
Demystify once and for all what it means to 'find your voice'.
Figure out what your readers really want from you.
Play with the vast and delicious range of expression available to us.
Get to know what fuels your most passionate pieces.
Explore writing rituals that make you energised to write again, no matter whether you're at home or on the road.
(Downloadable immediately as a PDF ebook.)
Video recordings from our two online Wunderclass events.
Watch as I lead actual participants through two ideas-jammed, rule-smashing web sessions (232 minutes total viewing time).
Ask me any questions that weren't asked and answered during the web sessions through our Facebook group.
Use the recordings to help you dive deeper into the key messages of the Guide and tailor the 6 Web Words & Wanderlust steps specifically to your own unique needs.
Discover where you can start making the greatest impact possible with your words and have more success writing for your business.
On top of all this goodness, you'll also get:
Exclusive access to the Web Words & Wanderlust community.
Engage in a private members' Facebook group, where you can bounce ideas off like-minded, freedom-seeking, word-loving women.
Share and connect with other entrepreneurs on the journey from frustrated to free in their online writing.
Resolve your word tangles, 'that doesn't sound quite right' despair, and those 'what's another word for…?' moments with your go-to web words editor, Kris.
And we're not done yet!
Resources from the writing pros.
Make sure your words are super-impactful and strike a professional standard beyond all those bland tick-the-box templates out there.
Find out who my go-to people are for practical advice and insider facts on SEO, blogging, about pages, sales pages, copywriting and conversion, lifestyle business and making it all work while you travel.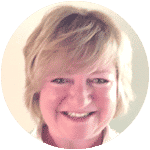 "​Initially, I found it a challenge expressing what I really wanted to communicate. In the Web Words & Wanderlust process, my thoughts became clearer. Kris has an amazing talent with language. She senses what's being communicated on many levels. She is kind, caring and fun. She is a gem who will bring out your best message."
Sue Frend writes about education
Get it now for just £97…

So, who's taking you on this journey…?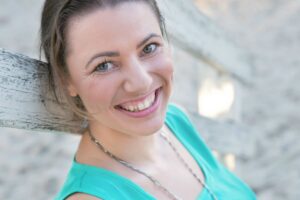 Hey there! I'm Kris, editor extraordinaire and language-loving communications creator.
With my travel obsession and linguistics background lighting the way, I work with expressive entrepreneurs and writers to enhance their written copy and put their voices out into the world with style and confidence.
Starting my writing career in the City of London as a corporate reporter I learnt the ropes working for the likes of Bill Gates, Tony Blair, Muhammad Yunus and other global hotshots.
But something was missing… The writing was stuffy, corporate, boooo-ring. And frankly, I'd rather sell my passport on the black market in the Baltics than have to read another banking transcript.
I crave fun!
Enthusiasm abounds when I'm in the room, making my editing and writing style infectiously inspiring as well as ultra-pro.
Expect to write more easily and sound more like you with me as your Web Words & Wanderlust guide. Using my talent for teasing out the beautiful messages inside, I'll help you craft impactful copy that commands attention.
My absolute dealbreaker is writing that doesn't speak to the audience or resonate in your true voice. From my translation and linguistics Master's degree at Westminster University, I learned how to manipulate language to great effect, challenging the rules and exploring the wealth of word choice available to us as writers.
As the definitive word-maker-upper, you'll soon see how reinventing the rulebook is something I subscribe to wholeheartedly. And the very basis for doing what I do: ripping the language to smithereens so I can express myself and help other women entrepreneurs with huge ambitions, like you, to do the same.
Now you know a little about me…
My deepest wish is that Web Words & Wanderlust helps you rediscover your love for writing.
How will you know if this guide is right for you?
Because…
You are an entrepreneur who deserves to have her message heard.
You want to regain your confidence and spark in your online writing, without getting bogged down in SEO and structure, content creation and correctness.
You miss the days of ease and flow and light-up-the-world luminosity that you used to have when you started writing for yourself and your passion business.
You remember what it was like to get excited by an idea, but lately it's been about forcing the creativity… (Oh hang on, isn't that a contradiction in terms?)
You love playing around with words when you have space and time, although you can't recall the last time you gifted yourself either of those.
You consider creativity super-important in your online business and want to make it non-negotiable.
You are curious about story, expression and personality shining through in writing… (And anything that involves exotic locations, out-of-the-box life lessons and wild times is a bonus.)
You crave loosening up your language and being more playful in your online presence.
Not to pigeon-hole people or anything, but here's who shouldn't join the Web Words & Wanderlust party…
Anyone who thinks you have to obey grammar rules first and foremost.
Entrepreneurs who believe hard work is the only way to success in their business.
Writers who think there's a 'right' and 'wrong' way to do web copy.
Business owners looking for templates or how-tos on writing about pages, work-with-me pages, sales copy, articles, blogs or newsletters.
People who don't like experimenting, trial and error, taking risks or being uncertain of a guaranteed outcome.
Those who don't like to journal, make notes, come up with new angles, enquire into themselves, brainstorm and play with ideas.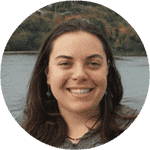 "​​I'm looking at my writing differently. I now think about how can I make my writing more awesome. Web Words & Wanderlust is fun and exciting but also very useful in practical terms. It's a great mix of desire and duty (wanderlust and making a living). Just what I want to create."
Dacia Dyer writes on leading a soulful life through active self-discovery and mindfulness
Grab your ticket for just £97!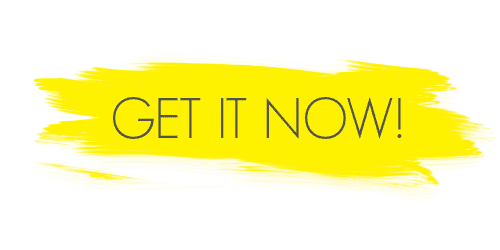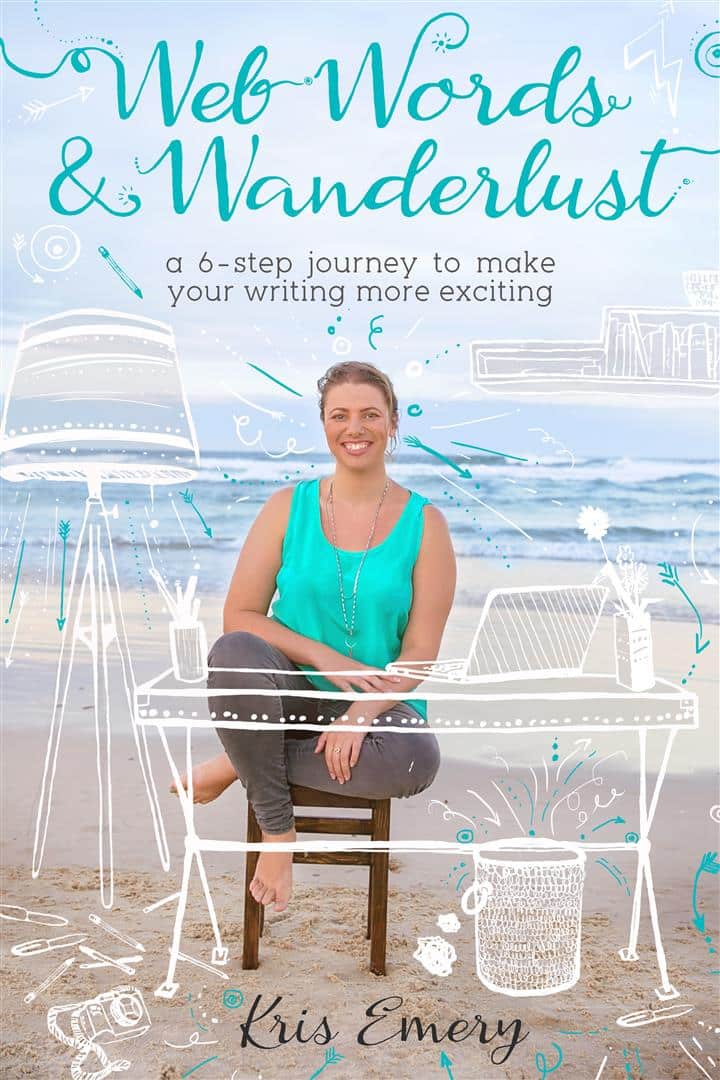 Frequently Asked Questions
How long will the Facebook group be open?
Of course we can't predict what Facebook will do in the future or guarantee availability that is out of our hands, but it's certainly our intention to keep it open for as long as you need it, so that you can connect with other like-minded entrepreneurs with a lust for language!
If anything happens or we make the decision to close the group for any reason, we'll give you 30 days' notice to make sure you save any resources, contacts and conversations.
Should I purchase the guide even if I don't have a blog or business yet?
You'll get most out of this experience if you already have a business for which you need to write copy, blogs, articles, newsletters, ebooks, or workbooks.
The Writing Experience is very doing-focused, which means heaps of journaling and writing implementation. If you have nowhere to practice what I teach in the techniques and example stories, it will ultimately limit what you can get out of the experience.
What sort of time investment is required to get the most out of the whole Writing Experience?
This is a how-long-is-a-piece-of-string question, but I will attempt to answer it!
To read the Guide itself, it'll take you around 5 hours (depending on how fast you read, of course!) Doing the journaling and experiences is key. There are 36 journaling questions in there, each of which could take 2 to 10 minutes to complete. There are 7 experiences to sink your teeth into and apply all you're learning. Some of those experiences are ongoing, a few minutes here and there, or they replace the time you might otherwise be writing (or let's face it, staring at a blank screen!) Other experiences are one-off and as quick as 30 minutes.
The recording of the Wunderclass online event is a further 4 hours (almost) of viewing time, split into two videos. It's a good idea to have gone through the ebook Guide before you watch the videos.
All-in-all, the time you spend is up to you. The more you put in, the more you'll get out and the more content and creativity you'll put out. Most importantly, the time will feel fun and freeing, as opposed to stuck and heavy like it might right now when you think about writing.
How does this experience differ from any other writing training out there?
Well, for a start, it's not 'training'. This isn't about me teaching you how to write per se. Because you already know how to write. You just need some direction in making it more you.
The main difference between the Web Words & Wanderlust Writing Experience and everything else out there is how you'll be incorporating writing into your life. Awareness of your writing becomes not an activity scheduled in your calendar, but infused into your every moment, every move, every idea.
I'm not teaching a formula. I'm not giving you do-it-like-this-and-it-works scripts and templates. I'm showing you how to explore your writing again. It becomes holistic. It becomes doable. For you.
Do I need any special equipment?
The Guide contains some equipment lists for the experiments, but there is nothing out of the ordinary in there. Beyond your laptop, a journal and pen, and your home comforts, you're not expected to have anything fancy.
Do you offer a refund if it's not what I was expecting?
We believe wholeheartedly that you're going to get a lot out of Web Words & Wanderlust if you put a lot in. If it turns out it's not for you, though, no hard feelings. Contact us within 30 days of purchase and we'll be happy to refund you the full amount.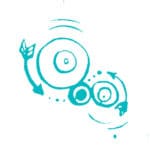 Want fun and freedom back in your web writing?
Get the Web Words & Wanderlust Guide, a recording of our deep-dive Wunderclass and access to the Web Words & Wanderlust Community for just £97