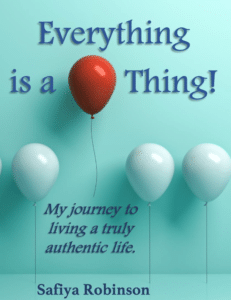 non-fiction memoir
personal growth // self-reflection
In this case study, we meet my client Safiya Robinson, an island girl who lives, works and writes in Barbados. By day, she is a dentist who is passionate about health and has a love for working with special needs patients. Safiya is also the owner of the blog 39 and Counting, which she started not long before she turned 40 to reflect on her first 39 years on the planet.
Her book Everything is a Thing launched in September 2019 and inspires people to embrace every part of their story and try something new.
Watch the interview or read about Safiya's experience below.
What was the problem?
After starting her blog, Safiya had the idea of writing a book. To start, she didn't know what the book would be about; she just knew she wanted to write one. A chance online encounter with one of my favourite people Annick Ina, who provides book-writing training and self-publishing services, gave Safiya with the clarity she needed around her book topic.
Safiya was able to reuse some existing content from her blog in putting together her book, but still needed to write about 70% new material including more stories and experiences, then tie it all together with the theme.
After creating her rough outline of what she would include, and noting down some stories and thoughts, she made a commitment to write every day, even though some days she would write 3,000 words, and others only 100. She found the biggest hurdle was sticking to the commitment she'd made, no matter what.
What she did
To get around the feelings of being stuck or uninspired, Safiya would simply write something else, which often sparked a new idea to put into the book.
And this is something I try to get across to many of my clients. Writing begets more writing. You don't need to be inspired to write; the act of writing will inspire you.
For the most part, though, Safiya says she found the writing part enjoyable and easy. Yet, she was still amazed to see how greatly editing improved her work. The difference between what she submitted to me and what she got back after editing had her shaking her head in shock. (The good kind!)
She has since told me that she was pleasantly surprised to find out how supportive I was of her words and her voice I was during the editing process. A big fear of hers (and many writers!) was that an editor would come along and poke holes in her work. But that's not what I'm about at all.
In fact, I find it kind of sad that so many people fear the editing phase. Editing should strengthen your voice, not weaken it. Believe it or not, you can write your book, your way, in your own voice, and also need some guidance. There's room for both those things! I know that Safiya felt completely respected during the whole editing phase, especially when it comes to still sounding like her, only even better.
When it came time to publish, all the decisions Safiya had to make (book size, self-publishing platform, layout, online store categories, the list goes on…) nearly drove her mad. She didn't really care about these things, and found them overwhelming to consider.
Side note: That's where hiring an editor who is familiar with self-publishing can make all the difference to your sanity. Rather than feeling like you need to research everything, I recommend handing over that mental load to someone who knows what they're doing and knows your book. (This is why I team up with Annick Ina and we bounce back and forth at different stages of the process.)
Safiya commented to me that if she were to do anything differently the second time around, she would outsource all of the decisions and work that come with self-publishing and promoting her book.
Good call!
Who this approach is good for…
Safiya's approach of hiring an editor (and her intended approach of outsourcing the work for future self-published books) is great for anyone who writes with ease, but needs help with polishing it up into a book they can proudly release into the world.
You can't be a perfectionist when writing your own book. It's never going to be perfect. You could keep editing and improving it for the rest of your life! At some point, it's essential to let go of your desire to have the perfect book, so that you can simply get it done, get it written and get it out there!
Opportunities since publishing
Finishing the book make Safiya feel like a rock star in her ability to start something and see it through to the end. She's even already written the first draft of another book because she gained the confidence and knowledge that she could decide to write a book, and actually do it.
It's also given her confidence in other things, like other types of writing, writing for people who aren't just her friends, and writing guest posts for other blogs.
Not to forget the simple pleasure of being able to add the title 'author' to her LinkedIn profile.
About the author
Safiya Robinson is an island girl who lives, works and writes in Barbados. By day, she is a dentist who is passionate about health and has a love for working with special needs patients.
Safiya is also the owner of 39 and Counting blog, a project she started not long before she turned 40 to reflect on life lessons from her first 39 years on the planet. As a keen world traveller, she uses this space to explore her experiences and philosophy on life, sprinkled with fun, humour and big love from a small island. Her mission is to inspire you to embrace every part of your story and try something new!
In her spare time, you'll find her brushing up on her photography skills, enjoying island sunsets, baking delicious treats, or spending time with her friends and family.
About the book
One of the heaviest feelings we can have is the weight of other people's expectations.
Add to that the weight of our own judgement, our dreams and desires that don't follow the traditional path, and worrying about others judging us as crazy for veering off it.
The truth is we often judge ourselves more harshly than others do, and unnecessarily wear ourselves out by trying to 'fit in'.
This is what Safiya Robinson discovered as she approached her 40th year. As she turned inward to find the answers to living more openly and authentically by her own values, she realised most people she connected with were feeling the same way too.
In this part-memoir part-method, Safiya shares stories of her own journey letting go of old attachments and embracing a more playful life, and will inspire you to accept and reveal your true and authentic self, build relationships with people who celebrate you, and encourage you to do the same.
Because every thought, every dream and every desire you have is valid.
In fact, everything is a thing.
EVERYTHING IS A THING
39andcounting.com
Kris edited the book in a way that was true to my voice.

My book now sounds like a better version of me!
Since this was my first experience writing a book, I wasn't sure what was involved, but Kris made the process so enjoyable and smooth - from our very first call to hitting publish on my book.
I really appreciated her kind words throughout the editing process sprinkled with corrections, and I also worked with her to write my bio and book blurb, both of which I love!
If you have concerns about having your book edited because you think your work will be 'changed' then I highly recommend working with Kris. She has the ability to work with you to create a more polished manuscript, really suited for your readers, while staying true to and maintaining consistency of your voice, and the skill to create excellence during the process.