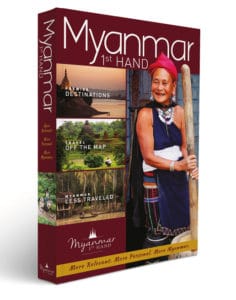 non-fiction travel guide
guidebook // independent travel // adventure travel // photography
Focus of Editing
Lisa had a huge vision and such deep knowledge to share about Myanmar, the country where her and her husband live and operate their travel guide business.
To create this indie travel guide, Lisa's job was to sort through and write up the mammoth amount of historical, cultural and descriptive information they had collected over the course of 18 months. Not to mention collate the contact details for everywhere worth staying country-wide.
The editing job? To make the inconsistencies of remote and rural Myanmar as consistent and easy-to-read as possible, for the reader to have something usable and accessible.
About the Author
Following a holiday there in March 2013, there were certainly plenty who were surprised when Australian couple, Lisa and Marty O'Donnell announced they were moving to Myanmar. Four years on, they call it home and they've travelled most everywhere that foreign travellers are allowed.
Covering around 15,000 km by car, they criss-crossed Myanmar. And when regulations didn't allow them to drive, they parked up and jumped on trains, tuk-tuks, boats and even the back of trucks.
Spurred on by an obvious lack of relevant travel information, Lisa and Marty journeyed country-wide to curious locales, researching, documenting and photographing travel destinations both known and off-the-map.
About the Book
The only resource-rich travel guide - full of travel possibilities to the unique destination of Myanmar - that's researched and written by expatriates living in the country. A full-colour book packed with information and visual inspiration on countrywide destinations.
Design your Myanmar journey with confidence using Myanmar 1st Hand.
More Relevant. More Personal. More Myanmar.
MYANMAR 1ST HAND
myanmar1sthand.com
Kris nurtured my confidence and belief in myself, and guided me through what was a completely foreign process to me - authoring a book. She polished my words without taking away my voice.
Having not authored anything prior, I needed to learn the whole writing process. I was nervous that I wouldn't comprehend what was expected of me within the short time frame I had for the project.
Kris gave me the confidence to believe that the project was possible. And now I feel elated that I realised such an enormous goal.