I thought I'd heard every fear in the book around hiring an editor, about writing an ebook, and about creating a product that the audience will love.
And of course, through my editing work, I have.
What I hadn't experienced was how real those fears feel from the writer's side.
There I was, making a shout-out to my online business group, for an ebook editor to help me shape Web Words & Wanderlust into something fabulous. Getting a huge dose of what my clients face all the time.
I admit it. Familiar though I was with editing, being in the hotseat was tough. Knowing intellectually that it was just my own fear talking, that was no comfort either.
I felt so attached to my writing.
What if it ends up not sounding like me? I don't want my voice to get lost.
What if I don't like what she does? I don't want to waste all that money.
What if it's crap? I don't want to put something out there if it's not good enough.
I got over myself in the end
I have conviction around what I teach in Web Words & Wanderlust. I had an inkling it was good already. But good wasn't good enough for me. Not for this project. Fabulous would be the bare minimum.
As an editor, I'm usually a major and crucial part of the process. Of the main things you need – like, cannot cannot do without – when you're self-publishing an ebook product, editing comes joint top, on a par with design. No ebook should be presented to the world unedited or undesigned. And I say, get the best you can afford.
Each of those two phases deserves another more detailed post in itself. Beyond editing and design, though, there are a million little things that go into the process. So many moving parts! And preparing a launch was a whole different beast again.
So what's involved exactly?
If I tried to write this chronologically, I'd be sure to get all tangled. So instead, here are the main themes of putting together an ebook, based on my experience for Web Words & Wanderlust, and informed by my work as an editor. This is not every step or detail. Simply a sneak peek behind the scenes, accompanied by insights and advice that I've learned along the way.
Outline
Come up with an idea. Pause. When it won't leave you alone, you know it's The One.
After scribbling the idea down in my notebook in Fiji, I promptly put it to one side for six months. I quit my side job, focused on booking myself solid for editing and occasionally pulled out scraps of paper to tinker with the vague sections I'd scribbled down.
Eventually, I couldn't put it off any longer. It was calling me. Time to make it happen.
Empty the contents of your mind onto paper.
Web Words & Wanderlust started out as Post-Its. It wasn't the first ebook to start out that way. And it won't be the last. It's essential and inevitable that, after the initial idea and rough sketch of what you want to cover, you'll at some stage have so many cool ideas going on that you could write about that you'll have to sit down and dump them all in one place.
A massive art pad, index cards, coloured sticky notes, whatever you want to use, get every every every idea out. Without worrying about where it'll fit, how it'll fit, or even whether it'll fit at all.
For Web Words & Wanderlust, this looked a little like this…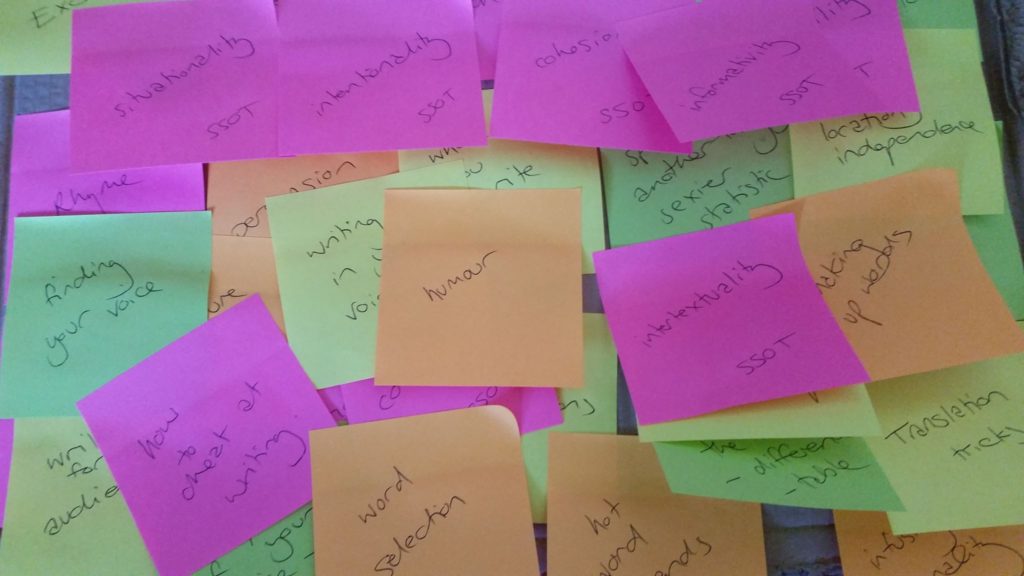 Identify themes and loosely arrange them into groups.
And then… do think about where it'll fit. The next step I take is to group everything together by theme, bearing in mind I can always move it later. If something fits into two or more sections, I put it where it fits best right now, rather than duplicating the topic. I figure it's better to move something around than create extra work for myself by repeating the writing part.
Writing
Here's where the best laid plans fall down: we don't do them.
Here's the antidote to that: do them.
You've read it in every personal development, business success, and self-mastery book on the planet. The difference between those who do and those who don't is action. Pure and simple. Start writing the damn book already. I have no more advice on this.
Set a deadline. Make it public.
A trick taught to me by Denise Duffield-Thomas at LuckyBitch.com is to declare your goal publicly so that you have to stay accountable. I'm telling you there's no greater accountability tool than 800 of your *closest* Facebook friends knowing that you're writing a book.
For Web Words & Wanderlust, once I got serious about it in November 2014, I gave myself 6 months. In the end, it was about 8 months, but a book is completely and utterly doable in much less time than that.
Everybody writes at a different pace. I am a fast writer, but Web Words & Wanderlust wasn't a priority in the beginning, because I had some incredible editing opportunities throughout that time and the strategy was to focus on that as my core business. Once Web Words & Wanderlust took centre stage, I wrote 25,000 words in about 10 sittings of around 2.5 hours each. Over 1,000 words per hour is easily doable.
(For more on writing speeds and what is possible, check out my client Morgan MacDonald's book Start Writing Your Book Today.)
Do what works for you. Test, trial and team up.
The underlying philosophy of Web Words & Wanderlust is that there is no perfect writing practice that will make words just fly magically onto your keyboard. It's about figuring out what works for you.
Some say you must write every day. I politely decline. (In my head, it wasn't all that politely.) As soon as there's a must, my inner rebel goes immediately and automatically to, "Thanks, but I'll pass". And I know for a fact, you don't have to write every day to be a productive and prolific writer. Write as often as you damn well please! Just make sure you write.
This week I received my 99th editing enquiry. 99 women who all have written something worth sharing. I see every kind of writer .The kind that dumps a massive amount down in one sitting. The kind who block-writes all the content for one month and then doesn't write anything for weeks. The kind who writes little and often. They're all perfectly acceptable ways of writing. Who am I to say you must do anything?
Something that worked for me was having a writing buddy. Especially in the early stages between December and February, meeting up with my Brisbane bestie Lauren Jane at InfluencrLife.com for writing sessions gave me great momentum.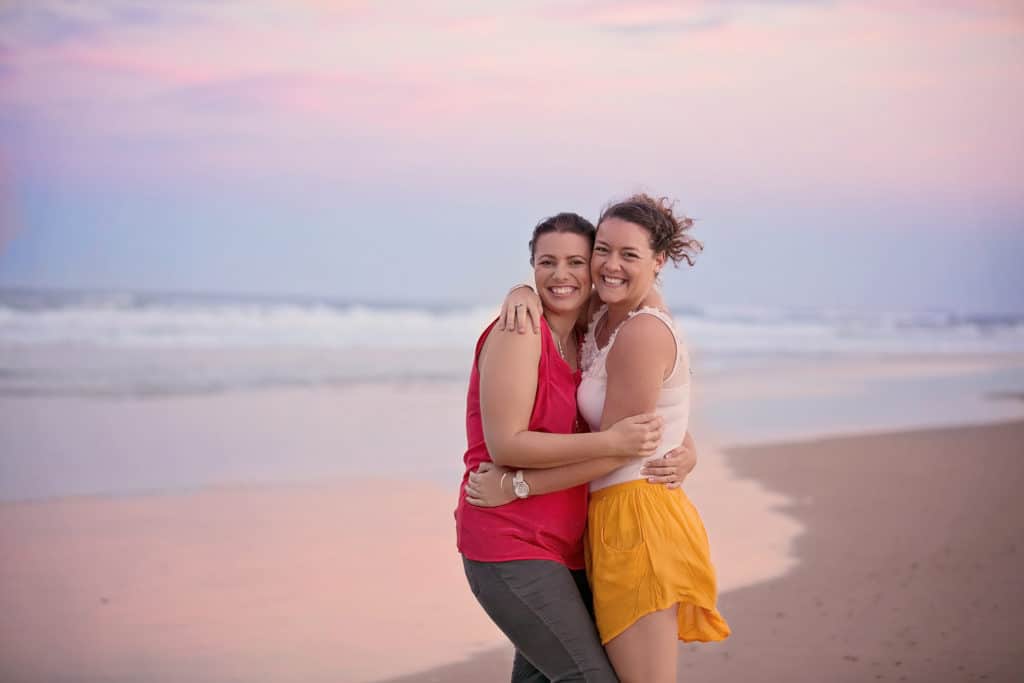 Okay, so the first time we wrote together, we got kicked out of the library after 45 minutes and went for beers on South Bank. We didn't know the library closed so early on the weekends. And then, well, beers. And perhaps some cocktails. However, committing to a writing date worked wonders for consistently dedicating myself to the book.
Editing
Start interviewing editors.
I had an idea of my budget, but I was willing to stretch it to find The One. (Editing is kind of important to me!)
When you gel with an editor, it's magical. You feel like you're in safe hands. Like your baby is in safe hands!
I had been nervous about finding my editor, given I know this stuff from the inside out. To overcome this, I made sure I was clear about what I wanted but also let go of expectations. Knowing what you want, but trusting and trying to not be overly rigid with it, that's a tricky balance!
Speak to a few people and get a feel for how they will tackle the project. I had initial conversations with four editors in total.
Make a choice and book in.
For a serious piece of work, I recommend looking for an editor between 4 and 8 weeks before you've finished writing. Any longer than that, you may not have written enough to give the editor a good idea of what you're writing. Any less than that, you may struggle to get the dates you want. The nature of editing work means most editors block out time for projects in advance.
I secured my space with my editor Louise Robinson about 6 weeks before we were due to work together and even met up with her in person in Sydney. In that meeting, we went through the vibe of the book and clarified the purpose around all of the content. Some editors, including myself, will do this in the initial conversation or by questionnaire or both. We had the opportunity to hang out for coffee, so we took it!
I chose to work with Lou because she was excellent at walking me through how she'd tackle it. She had some thoughts and ideas for me, which I loved, and I came away from that meeting with confidence and a fresh perspective.
The process is important too. As a client, you'll want to know how many reviews will be included in the price. Make sure you get an estimate of the total cost, but don't make it all about the money. Most editors charge per word, but many charge hourly.
The important question is the how, not the how much. If you choose an editor who doesn't 'get' you, you may end up paying twice or rewriting your voice into the piece, which takes an enormous amount of time. I've had several clients who have chosen me as their editor after already having a bad experience with someone else. So make sure you ask plenty of questions and save yourself the stress of choosing the wrong editor.
Your editor can improve the language, but before you even hand it over for editing, it's worthwhile getting test readers in. I approached some peers and clients who, in one way or another, fit with the ideal reader profile that I'd created. Their suggestions were invaluable and helped me broaden out my view while I was still writing.
With Web Words & Wanderlust, Lou was more flexible than many editors, but having a deadline still gave me extra incentive to get writing. I knew I had to get the draft to Lou by a set date and did my best to meet it. I was a day late in the end, which only caused me to panic-write. Not a good space to be!
Most editors wouldn't be able to guarantee you the same turnaround if you're late handing it in. Many won't even be able to be flexible with you, depending on their other projects. So don't miss your slot!
Make sure you know from the editor when you can expect it back. An editor will know how long a piece should take them to edit. There are a few reasons it can go longer, but a good editor will build in a buffer, and also communicate with you if it's going to take any longer than estimated.
Once the initial edit is done, comb through the changes and comments to see what you like. If you love it, awesome. (This was the case for me.) But don't let that be the end of your involvement. Make sure you go through and reread the sections that have changed, to ensure they flow and that the changes still sound like your voice. If you don't love it, make sure you feed that back, so the editor can learn more about your style and how you want it.
Important!
Do not drop off the face of the planet at this point. It's common to be attached to your words and it's uncomfortable to get feedback saying your writing is less-than-perfect. But you know what? You're not going to die from being a bit uncomfortable. Speak up. Be specific. It's an exercise in enhancement, not criticism.
The editor should be able to justify the changes and also walk you through how best to review your edited work. Stay with the process. It's so crucial to get the words right. Don't disengage from the editor because you preferred it your way. Simply ask them to explain why they've changed stuff if you don't get it.
(If you'd like to see how I suggest my clients review their work, download my Guide To Reviewing Your Edits, which I supply to all my editing clients when they work with me.)
Cover Design
Words, done! Up next, design.
Oh what it is to be a 'non-visual' person! Normally design is my nemesis. I know what I like when I see it, but I can't explain it or come up with design concepts.
For once, though, I knew what I wanted it to look like. I had this vision of me, somewhere fun, and having the writing tools drawn into my environment around me. Take your words into the world. That was the concept. That was where we were going with it. Now to find someone to make it happen.
For me, this was a no-brainer. The reason I was ahead of schedule on the design side was because I knew I wanted to work with my friend Ina Kuehfuss from InaWonderworld.com. She's an illustrator and a graphic designer, so it was a very easy decision to get Ina involved. She could hand-draw the writing instruments, desk, lamp and so on. She could then scan it and overlay it on my photo. And she could carry the imagery throughout the book by doing the interior book design too.
We started with some doodles for the chapter headings. The remaining illustration came later when I'd had my photos back.
I loved being able to work with one person for the whole project. What's more, Ina designs printed silk scarves and accessories, so her eye for style helped prepare me for the photos. We went into fantastic enthusiastic detail in our conversations together. When someone is as excited about your ideas as you are, you just have to work with them.
She didn't do a bad job, huh?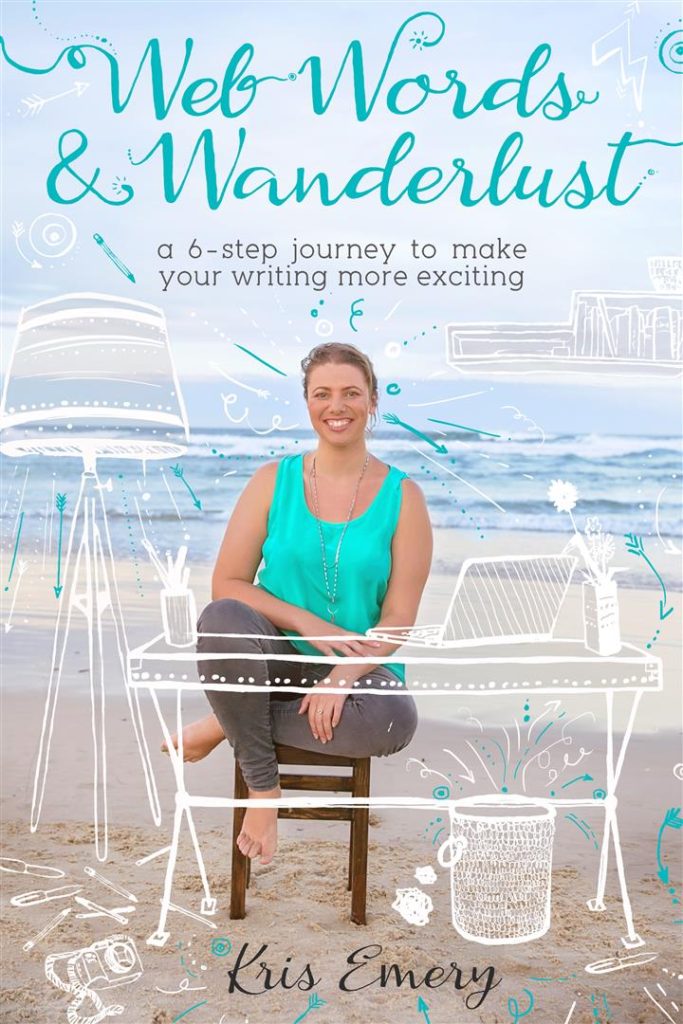 Whenever Ina sends back doodles, drawings, mock-ups, I give her detailed feedback about what I like and what I want to change. She is always open-minded about making tweaks or even enormous changes. Often though, my initial reaction is so freaking excited, because she's totally nailed it. Not even just nailed it! Exceeded any visual I could have come up with.
Admittedly, because of my excitement, I don't always communicate expectations around timelines and budgets enough in advance. I'm a bit fly-by-the-seat-of-my-pants about what I need. You've gotta be oh-so-grateful when your designer works on a Sunday to get your book to market on time! She truly is a gem.
Photography
The fun part! Hmm… not so much. I procrastinated booking a photographer for ages. I am smiley and outgoing by nature, but I have this feeling of not being photogenic, which prevents me wanting my photo taken.
After we figured out what we needed for the cover design, I fired off emails to about seven photographers and chose Michelle at Eyes of Love Photography because she had the best package, easiest availability, quickest and clearest communication and, of course, I adored her photos.
After I'd explained the concept that Ina and I had fallen in love with, Michelle was 110% on board. She loved it too! (See previous comment about working with people who love your ideas.) We emailed back and forth about locations and locked in a date for me to take a trip to the Gold Coast. I deferred to her on locations, because she was local. That meant she knew the light and times of day that were best to shoot. I loved that she had a strong sense of what I wanted but also felt able to get creative and inject her ideas.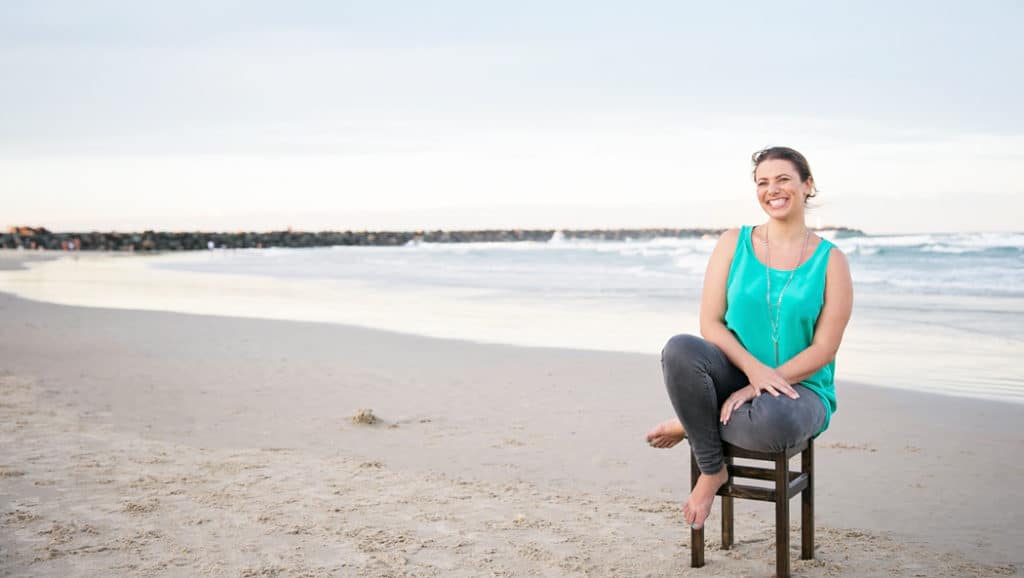 I'd found my photographer and we were ready to roll.
Bitch, please. I'm fabulous!
Get dolled up, round up a cheer squad, and style it up. Ina and I chose the outfits from my wardrobe. Then I used the MAC makeup concession at David Jones in the city in Brisbane for a natural makeup look. Many photographers can recommend both stylists and makeup artists. I was very lucky to have my friend there to help with props and Michelle was great at tucking in stray threads and hitching up waistbands to create better shapes.
All that preening and primping made me feel so glam.
Michelle made sure we got the main shot for the cover concept, but also went to great lengths to ensure we had a selection of shots for the marketing materials, website and author bio. She took pictures with negative space to one side of me, or all around me, which we could use for banners, covers and promo.
Michelle culled hundreds of photos and sent me a selection she knew I'd love. I can't tell you how hard it was to narrow down to 30 photos from the 100-odd she sent me. Yet strangely, the cover photo jumped out at me straight away. When you know, you know, right?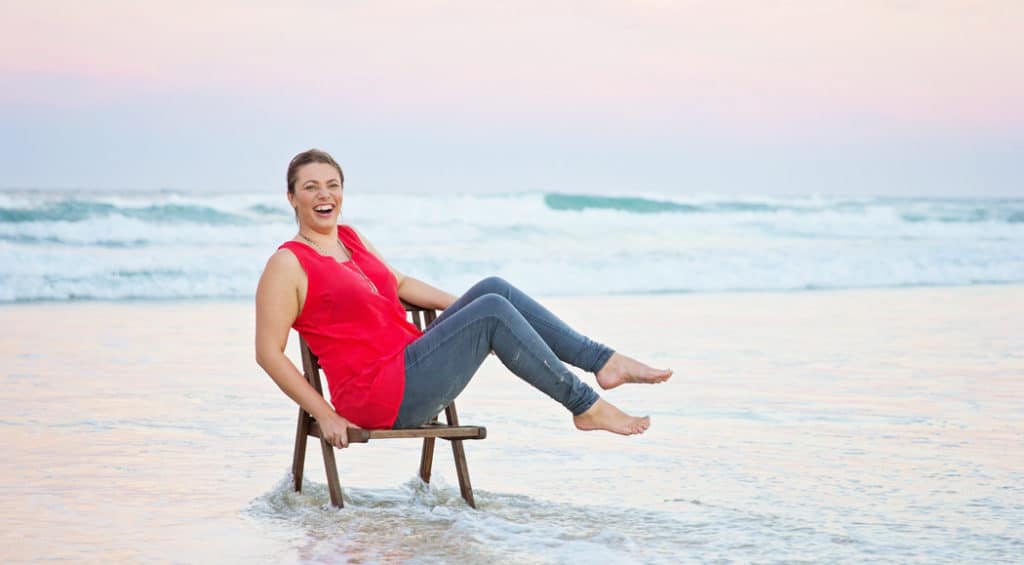 Final Touches
I kept the same designer and editor throughout the process, with Ina doing the interior pages and Lou doing the final proofing. Once the photos and cover were done, I finalised the text with Lou and sent it to Ina. Once she knew the content better, so could design the interior pages and get it looking… well, like an ebook!
Timing wise, we were quite tight when I had finished writing and playing around with the words, but the inside design was kept clean and simple, so it was easy to read and use.
At the same time as this was all going on, of course, I was teeing up the launch. The main piece of work there was the sales page, which I wrote and had edited by copywriter Amie Turner, the free video content, and the email sequences. (The launch is a whole post of its own, which I won't go into here. Suffice to say there's a lot to get done!)
We made it!
But in the end, we got there. And almost 15 months after the lightning bolt, Web Words & Wanderlust is here. Phew! That was epic! I'm off to celebrate. But before I do, this post wouldn't be complete without sharing where to get your hands on it!
Web Words & Wanderlust is a writing experience with a world of difference.
In it, I share the six steps make your writing more exciting. For you. And for your readers. If you dread newsletter day… If you haven't blogged in over a month… If you're putting off that sales page… And writing for your business is just too hard-basket, join me for Web Words & Wanderlust.
Find freedom and fun in your message again. Rediscover your voice. Fall back in love with writing.