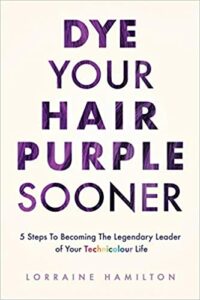 self-help
personal development // professional development // self-improvement
Lorraine Hamilton is a former engineer, voracious tea drinker and wannabe race car driver. She has spent the past 16 years coaching ambitious high-achieving women, writing books and mentoring hundreds of other coaches to greater freedom and success.
Lorraine condensed her signature system into a book, after being interviewed on a podcast. When asked to give a word of wisdom at the end, she declared, "Dye your hair purple sooner!"
Little did she know that living life to the full and being recognised for her stand-out purple hair would lead her to a bigger life and... a book title!
Check out our conversation here:
Lorraine's book process had the mark of an engineer, structured, organised, but she also found creative freedom in writing it.
What was the problem?
When Lorraine came to me for editing, she needed some guidance on structure. She had everything written, but wanted a developmental edit to check that everything belonged in the book.
As a naturally strategic thinker, Lorraine had created a fantastic structure, but her standards were high and she needed to run that structure by someone outside of herself and her business.
How she solved it
By hiring me to do a read-through, prior to looking at the language, Lorraine could be confident that everything she included in her book was going to interest and engage her readers.
Her approach could have led her to doing several extra rounds of editing, but this didn't appeal to her.
As a result, she trusted the later copyediting and proofreading stages and wasn't too attached to the exact wording, meaning she mostly accepted all the changes without too much more work.
Who this approach is good for...
If you're unsure of your structure, a developmental edit can be good to keep you on track and make sure your book is going to deliver on what you say you will deliver.
However, it's common to overthink structure. Structure doesn't need to be complicated. In fact, keep structure simple and you're likely to have a really strong start already.
Which, of course, strategic-thinking Lorraine already did.
As a self-proclaimed one-and-done girl, Lorraine let go of needing to manage every little detail, word choice, comma and full stop. She was fairly hands-off in the copyediting stages, which is good for people who are ready to ship and don't want to be stuck fiddling around with sentences.
Good is good enough.
Why would you do it this way?
You want it done, but the content is the most important part of the book. The prettifying doesn't appeal. You've read it once, you've read it a thousand times. Twiddling around with the detail doesn't do it for you.
You need the bigger picture to be there, yes, but the project needs to be done and finished for a hungry audience to buy more so than it needs to be the deepest expression of your soul.
About the author
Lorraine Hamilton is a purple-haired engineer turned executive coach, author, and international speaker. She's on a mission to help unfulfilled high-achievers redefine success and become legendary leaders of their life without completely starting over.
Through her private coaching practice, online programs, and book Dye Your Hair Purple Sooner she shows people how to make bold decisions that serve the life they actually want, not the one they've been told they should have.
Lorraine has become a beacon of trust in the coaching industry having supported hundreds of people over 14 of years to write their own rulebook.
About the book
Dye Your Hair Purple Sooner helps you redefine what success means to you and explain why no-one told you this before. Overcome perfectionism, procrastination and imposter syndrome once and for all. Set goals you can actually achieve and connect with others just like you who took the leap and metaphorically dyed their hair purple. You'll wish you'd done it sooner!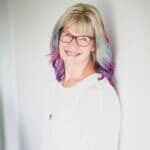 DYE YOUR HAIR PURPLE SOONER
lorrainehamilton.net
I love how Kris turned my draft into a final manuscript, while still keeping my style and my voice.
Thank you for all the work you did on the book to make it amazing. It really was a team effort and I'm very very very happy with the end result.