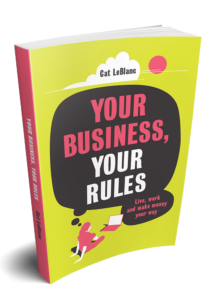 non-fiction business
entrepreneurship // small business // online business
In this interview with Cat LeBlanc, we dive behind the scenes of her book Your Business, Your Rules, published in March 2019.
Cat is CEO and Chief Business Strategist at CatLeBlanc.com. She helps budding entrepreneurs all over the world design, build and grow businesses that are truly unique to them, so they can live life on their own terms.
Here's my interview with Cat, where you learn all about having the freedom to follow your own path to becoming an author, even if you don't identify with being a natural writer.
Cat LeBlanc is the author Your Business, Your Rules, a book she wrote as a way to educate people who are brand new to the business landscape. It serves as a fantastic entry point to her coaching business.
What was the problem?
Cat never intended to write a book - she always thought of herself as "not a good writer". This is unbelievably common and quite normal, and it doesn't need to stop you writing a book, as you'll see from Cat's story.
She joined a mastermind program and part of the agreement to join the group was that she would write a book in the first year. Cat agreed, but still felt doubtful that she actually would. However, over the course of the year she saw so many others in the group write their books, and witnessed how much information they were getting out there.
Cat thought about the 30,000 words it would take to make up a book and realised it was the equivalent of 30 blog posts, yet writing a book sounded so much more intimidating to her.
Over time, Cat started to think, "Actually, I could do this!"
So she made a commitment to herself that she was going to write a book. And for Cat, that was only the start of the roller coaster ride.
What she did
To get the book written, Cat had to move past some limiting beliefs she held about herself, like "I'm not a good writer" and "I can't do this".
After trying different methods to get writing and then stalling out around 17,000 words, what ended up making the difference was booking in that initial editing date with me. She needed an external deadline to get it done.
Knowing she had to have it ready to send to me kicked Cat into gear and she found her stride in recording herself talking through the content she wanted in the book and then having those recordings transcribed for her.
And as Cat discovered, once you've got something on the page, you can then go back and make it better! It's often easier to know what you do and don't want in your book once you've started writing it.
While that first draft Cat sent to me was not quite as finished as she had wanted it to be, she has since realised that the finished product of a book really is a team effort. You get to put your own raw ideas into it, but there are many people who come after you and make it so much better.
So while Cat didn't consider herself a writer at the start of the process, she was very happy with the final product because there were so many layers of checking and refinement that came after what she had written.
Who this approach is good for…
Cat's approach works well for people who are not in a hurry and who work well at a steady pace, doing the deep work gradually and are happy to work with others and be supported.
For some people, having an external deadline is just too much pressure and it makes them freeze, rather than motivating them. So you need to know what will work for you.
There's no cookie-cutter way to write a book – it's about finding the process that works best for your personality. But even if you don't feel like a "writer", know that you can still write a book because you have a whole team supporting you.
When Cat got her edit back she was so happy with it that she happy-cried. She says, "I remember thinking, who wrote this book? It's like my ideas, but it's awesome!"
Why would you do it this way?
Cat has continued to reap the rewards of writing the book she never planned to write.
For one thing, Cat learned that she is capable of so much more than she imagined. And this has now caused her to start thinking about what else she might be able to achieve that she had always put in the "too hard" basket.
Before writing her book, Cat was already blogging and podcasting, and while she still feels that those are very effective ways to communicate information, she says that writing a book is just "next level". You simply can't beat the format of a book for being able to get your knowledge out there in such a well-rounded, complete package.
Cat has found since launching her book there has just been a general uplift in her whole business – an uplift in her expert status, in her credibility, and in how she is viewed as a business coach.
Have you always felt like you're not a good enough writer to write a book? Maybe it's time to push yourself and remember – you don't have to do it alone!
About the author
Cat LeBlanc is a freedom-junkie and secret systems-nerd. Rebel? Perhaps. When something's not working, she's driven to find a better, more liberating way of getting stuff done.
She helps frustrated employees, almost-entrepreneurs and entrepreneurs find their own freedom, from business idea to building the best foundation to getting them earning money.
Cat saves her clients endless hours of wondering what will work and money on expensive courses to get the right business model nailed down.
She then guides clients in those early, difficult months to build a business aligned with their dream. There is nothing that she loves more than seeing her clients feel greater freedom in a new business that's totally "them" and nobody else's.
To find out more about setting up and running a business that fits with you and your personality, take Cat's Entrepreneurial Design Profile quiz by following the link below.
(If you go on to purchase from Cat's site, as a partner of her programs, I may receive a commission from the sale.)