It was such a pleasure to speak with my good friend Chenae for so many reasons.
First, we coworked on our respective books. My own guide to self-publishing Destination Author came out a matter of months before Chenae's book Is Your Business A Prison? and it was so special to celebrate together.
And second, Chenae took a very different path to most of my clients. Instead of deciding to write a book because she'd harboured the dream for a long time, Chenae was part of a program that asked her to step up. Writing a book was just one of the demanding projects she signed up for when she took an in-depth program on becoming a spiritual thought leader.
Many people I work with are authors on purpose. Take a look at the path of an author by accident.
Check out our conversation here:
See how Chenae's path unfolded.
What was the problem?
Chenae joined a program that teaches intuitive business with the aim of creating heart-centred leaders. Part of that program involved writing first a 5,000-word ebook, then a 10,000 word longer thesis that could then be extended and published.
She loved the program but had never considered or intended to be a published author. It was kind of happening by accident...
How she solved it
Although Chenae hadn't explicitly thought about writing a book in the past, she took the program seriously and dug deep. She was committed and decided she would make the thesis project the best she could. Giving her all is Chenae's approach to everything in life and the ebook was no different.
During that time, she stepped into the shoes of author and really started believing in her book.
Through our friendship, networking and coworking, Chenae knew a lot about the editing process. So since she'd put in all the work to write the ebook, she decided to follow the publishing journey all the way through to the end.
Who this approach is good for...
I have heard of a number of business programs requiring their cohorts to write a substantial piece like a book.
Despite incredible business experience, many entrepreneurs in programs that develop thought leaders are daunted by a book project. However, when they lean into the exercise and turn to their support network, they can achieve great things.
Business owners are so often used to getting their head down and doing the work required. A book is no different. Get it done, then worry about the publishing stuff later.
About the author
Chenae Carey is an Intuitive Business Coach and Mentor for women-led businesses that make a difference.
Established self-employed women who feel trapped by their business work with Chenae to achieve entrepreneurial freedom because they wholeheartedly believe that their business isn't meant to feel like a prison.
Chenae uses her Bachelor of Business and robust experience in the intuitive sciences to teach entrepreneurs how to confidently attract more clients, streamline their systems, align their energy to their goals and market effectively.
About the book
You started a business to give yourself more freedom.
You wanted a certain kind of lifestyle - you didn't want to have to report to a boss or a manager.
You wanted flexibility - you wanted to choose your own hours and the clients you work with.
You wanted to set your own availability, take time off over school holidays, and spend time with your family without having to ask anyone else's permission.
You wanted to be able to easily attend school events, be there for your kids… or your dogs… or your plants.
You wanted the ability to spend as much time as possible doing what lights you up.
You started your business to feel free.
So, this business you created to give yourself more freedom, how's that going? Do you feel free? Or does your business feel more like a prison?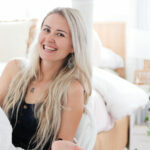 IS YOUR BUSINESS A PRISON?
chenaecarey.com
The kind of editor who doesn't just fix typos.
Kris reviews your content, ensuring that the ideas and concepts throughout the book flowed with consistency and clarity.
There's nothing like a fresh set of eyes over something you've pored over again and again.
Knowing I was paying a professional editor for my book gave me confidence that my book would be worth going on people's bookshelves.
Self-publishing doesn't mean riddled with errors. It is totally possible to produce a great book, a quality book, with the help of a great editor!