Editing a legal transcript from my beachfront pad in Rio? Why not?
Whipping up a blog post from the bach before hiking up a mountain in the NZ South Island? Don't mind if I do!
Answering emails sipping snake soup in Hong Kong? Sign me up.
One of the reasons I became a freelance editor and writer four years ago was the draw of a location-independent lifestyle.
I was seduced by it all
I live that reality today. (I've actually done all of those things. For reals.) But it strikes me that a lot of people don't get what it means to run a location-free business.
Despite regularly working long hours, keeping to tight deadlines and having clients around the world, I hear comments about 'globetrotting' and 'holidays' all the time. Interesting, considering I don't recall the last real week-long, switch-off break I had.
'Alright for some'
It's very common for location-free people to work wherever they are and compulsively check emails and update social media even when they're meant to be taking time out. Yet it's very uncommon to hear the hard work reported.
Enough!
I'm here to bust a few myths about the behind-the-scenes work that makes location freedom in business possible. Want to know what it really takes to talk turkey while you travel? Here's the first leg of my recent 11,000 mile trip from NZ to the UK.
Sunday, 26 May 2013:
Last morning in Auckland for a while. Breakfast at 8am with a mastermind pal who is helping me store my stuff and get to the airport.
Check-in, security, look for somewhere to plug in laptop.
There's only paid-as-you-go wifi, so decide to hand-write the answers to some interview questions I need to get finished. Find a cafe around 11am and sit down to consider my answers.
Set out of office and email forwarding to my new VA.  Realise that I wouldn't normally be working this early on a Sunday, if at all. Suck it up. Get on plane.
11-hour flight to KL. Watch 3 movies and relax.
Treat myself to door-to-door car service to my hotel as I have to work in the morning. It's only 10pm when I check into my suite, but it would be 2am in Auckland.
Settle into my new bedroom-cum-office. Take a snap of the view and post on social media. Shower and sleep.
Here's that snap…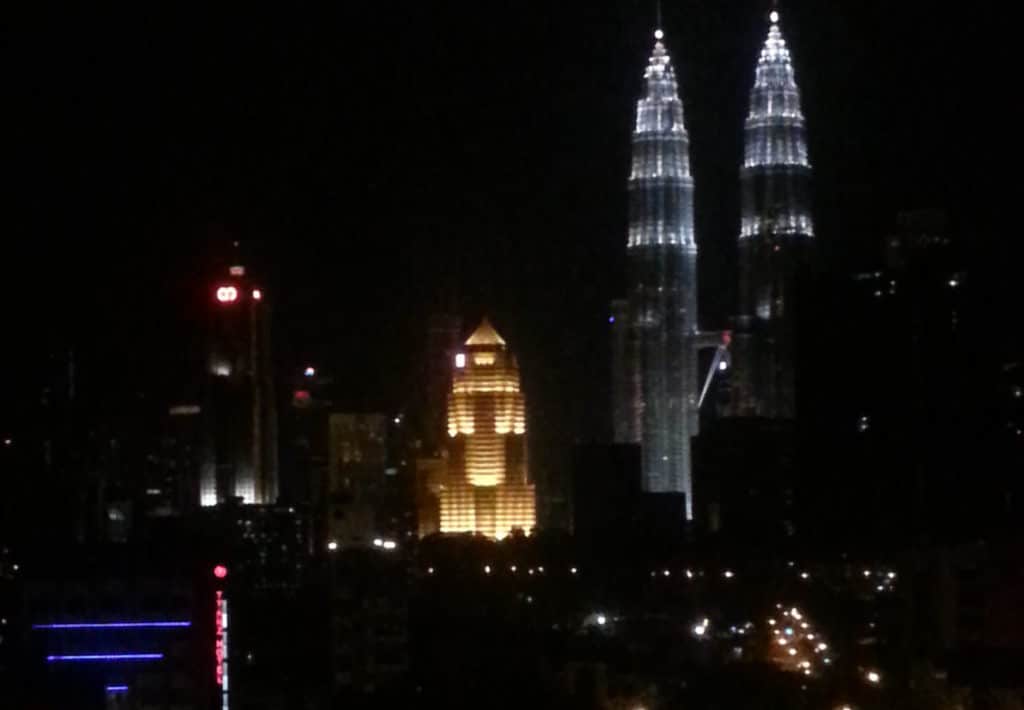 Monday, 27 May 2013:
First thing, about 7am, check emails and social media. Test my email forwarding with Kiely.
Follow up with some prospective clients.
Set up client document and template. Download meeting audio.
Breakfast at 8am ish.
4 hours transcript editing for an agency client.
Notice I haven't stepped foot on Malaysian soil yet, even though I'm itching to, so get to a good point in my work to stop for lunch about 1.30pm.
3 hours exploring. Hooray, finally! Eat some insanely good dragonfruit that I buy for 1 ringgit ($0.30) from a hawker. Realise KL is full of malls, necessarily so. Get drenched in humidity and sweat getting to Petronas Towers. Look utterly unfit to enter any of the designer clothes stores. Eat something insanely spicy. Hell yeah! This is what I'm doing here.
Return to hotel. Check emails. Get the go-ahead on an editing project. Do a little happy dance. (I still celebrate each and every client that comes through. I appreciate all of them.) 30 minutes of admin.
KL by night! Wander the streets, certain I've already been by this way. Get a bit lost, but pretend I know exactly what I'm doing. Find Chinatown, whoop! Have an awesome dinner of spicy squid with Malaysian beer watching the world go by. Duck touts selling tourist crap. Home to bed.
Voilà, spicy squid…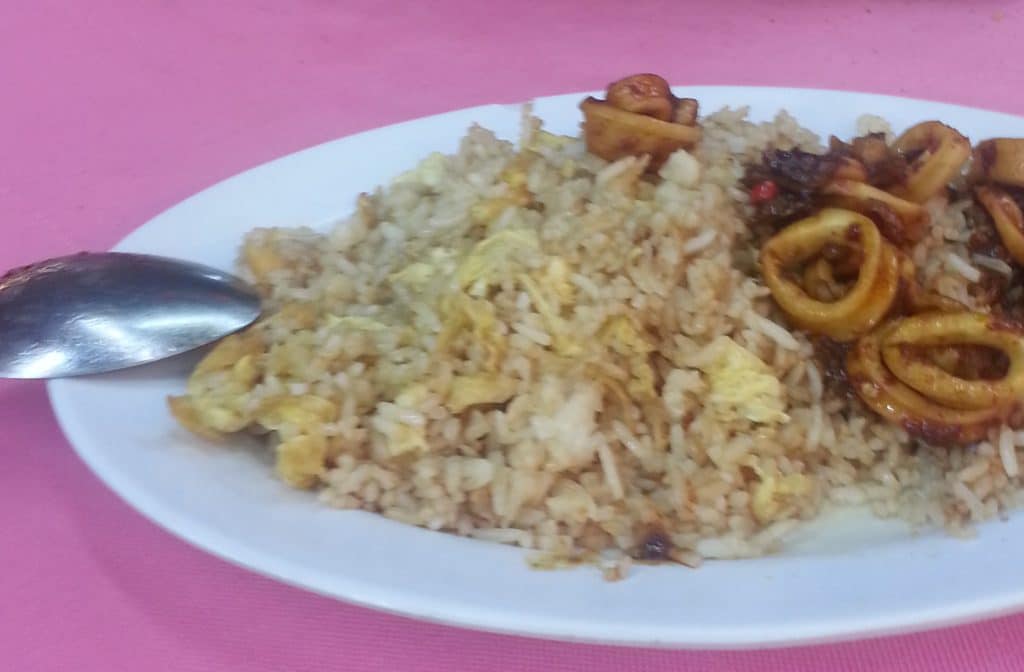 Tuesday, 28 May 2013:
Finish writing a guest post about easy ebook writing tips. Send. Love ticking off a big to-do first thing!

Check email and social media. Follow up some client correspondence. Run into a few customer service issues, with emails having gone missing. Damage control!
Breakfast around 9am.
5.5 hours of client work. Praise be for air conditioning.
Finish up around 2.30pm and head to the Botanical Gardens for an afternoon of exploring.
Spend an hour in the KL Butterfly Park. Very cool!
Lunch in the KL Bird Park. (They have lots of parks.)
Check emails and social media over lunch. Get joined by this dude in the pic below mid-email!
Best.Location-Free Lifestyle. Moment. Ever.
Decide I've seen enough for one day. Take it easy and have an early night. Jetlag starting to rear its ugly head. (Why does it always happen 2 or 3 days in when I think I'm all good?)
Work buddy for the day…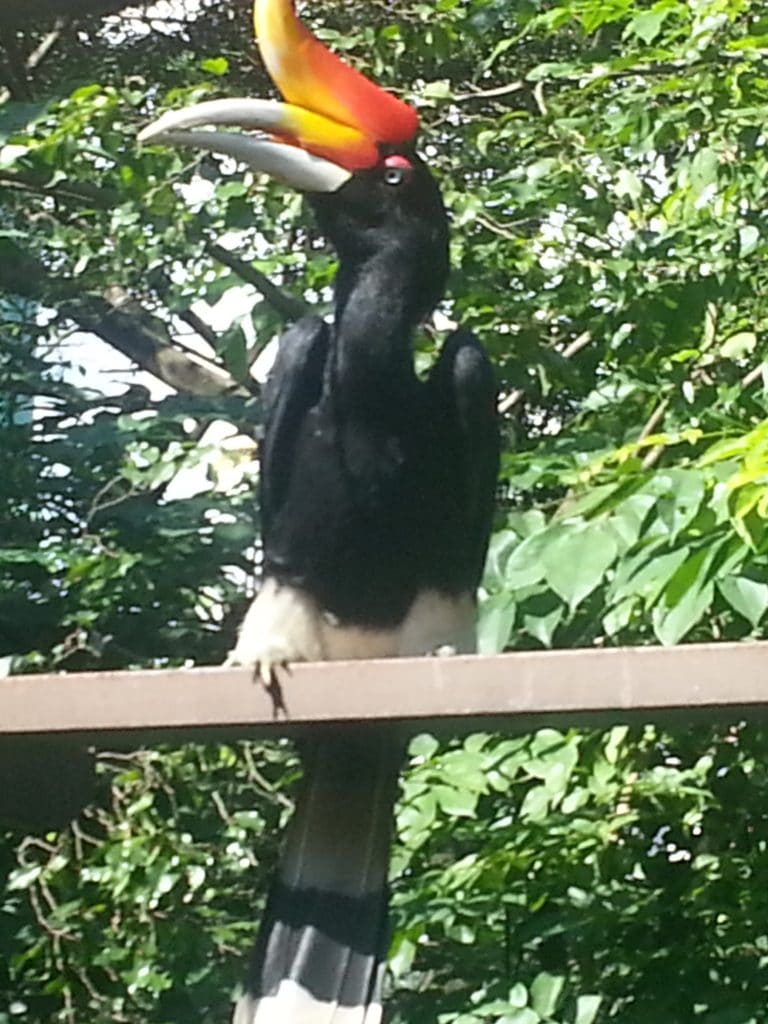 Wednesday, 29 May 2013:
Swim then breakfast.

Catch up with some contractors. Order new business cards from my designer. Contact my transcription team for some interview transcripts to be written up.
5 hours of writing for a client. Getting into a bit of a routine!
Explore some new parts of KL for the afternoon, about 4 hours, including the entertainment and shopping district Bukit Bintang.
2 hours editing and a couple of emails.
Dinner locally (and I mean VERY local), a 12 ringgit pork noodle soup and Tiger beer. Yum.
Thursday, 30 May 2013:
Last day in KL. Would like to take it easy and soak up the sights, but I have a client deadline and then a 12-hour flight to catch.

Start work about 7am today to fit everything in. Do 3.5 hours editing, while I still have my hotel room.
Check out and store luggage.
Blast round the monorail for 3 hours visiting the last few shops and sights I'd like to see.
From 4pm ish, I spend 2 hours checking in with mastermind groups and reading business books by the pool.
Shower and change for flight.
Hotel offers me use of the executive lounge while I wait for my transportation to the airport. Spend 2 hours writing to-do lists and organising editorial commitments for guest articles. Gotta love lounges.
Taxi to airport at 7pm.
So yeah, not all 'holiday', right?
Catch me for Part 2 of the trip.